Don't be confused by my particularly misleading title to this post. I don;t intend (at least I don't right now as I am starting to write) this to be lame. I just consider it half "catching up" and half "making good" for not posting much in the last week or two.
While I wouldn't say I have accomplished all that much that's new and exciting since my last update, I have posted a couple new (old) videos. One of the videos involves some ridiculously whacky timing.
Not too long ago, I was digging through a box where I keep all my old Hi8 camcorder tapes from, as us old-timers refer to it, "back in the day." I'll tell you this, i have some extremely interesting stuff on these tapes. People being tied up against their own will, drunken midgets, violent altercations filmed in the wee hours, naked people trying to shower while said violent altercations spill into their bathroom, and, of course, some good ol' wrestling action.
For whatever reason, I picked this match, an ECCW tag team championship match between then-champions Mike Roselli and Randy Tyler and Dr. Luther and Incubus, repping the Army of Darkness.
Watch it, then I'll explain a little more…
First of all, this match was Incubus' first match. EVER. How many guys have their first match and win a championship? Not too many. That's awfully cool. I'm pretty certain it was his first time inside an actual wrestling ring as well. Incubus was trained by Dr. Luther, who fans outside of British Columbia and the Pacific Northwest will know mostly for his battles in Japan's FMW with Sabu and The Sheik. That should tell you something about Mr. Luther's abilities as a teacher.
Second, the Eagles Hall in New Westminster, BC (now known as the Raymond Burr Theatre), was a crazy cool venue for wrestling. I went to a show there as a teenager for a small, fly-by-night wrestling company and, quite frankly, it sucked. There were seriously MAYBE 35 people in attendance, and half the wrestlers seemed to be taking the lazy route, a few others appeared to be competing in their first match, and others just tried to maintain whatever dignity they could while wrestling a guy with women's pantyhose pulled over his head.
I was hoping to never see wrestling return to that venue. Little did I know that a couple years later I would be wrestling there myself. I will say this, the first show I ever wrestled in that building (the first ECCW event there in September 1996), we drew about a hundred people, so we had already done better than the last group to promote there.

ECCW was really a couple of veterans, and a bunch of misfits that nobody else wanted. It really came into existence in the ashes of West Coast Championship Wrestling. Due to a number of political and philosophical differences, WCCW crumbled as two new groups were formed, ECCW was one, and what would evolve into Tim Flowers' International Championship Wrestling would be the other. In those early days, Flowers certainly had the better talent. Besides BC-based talent like Mike Roselli, Randy Tyler, Billy Two Eagles, and Black Dragon, Flowers also brought in the likes of Bad News Allen, The Great Gama, Don Callis, and Lance Storm.
Meanwhile, ECCW was all about the hardcore antics of Michelle Starr and Johnny Canuck, the (Davie Street Connection), the technical prowess of Oly Olsen, and a bunch of goofy "gimmicks" like Puff the Magic Dragon, Marvin the Lunatic, Crybaby Huey, and yes, even El Antorcha.
But the planets would begin to allign. The likes of Roselli, Tyler, and Two Eagles would migrate to ECCW. When "Maniac" Matt Borne was reported dead on the internet, he surfaced in ECCW within 48 hours, tore off his "Doink" outfit and declared that NOTHING could kill him. It was pretty much at that moment, and the subsequent battles between Borne and Two Eagles, that we knew we were onto something.
Before long, Borne began bringing his students up to Canada with him from Oregon. Chad Manning, Chuck Gordie, and Tony Kozina actually provided me with athletic opponents that allowed me to develop an actual repetoire (and had been wrestling guys that relied more on their goofy gimmick than wrestling ability or opponents that were much larger than myself for the most part).
One of the coolest matches I saw was a BATTLE between Borne and Tommy Rogers, who nobody had heard of for YEARS. All of a sudden, this Floridian with a million All Japan tour buttons on his Halliburton briefcase was in ECCW…and Monday Night Raw…and then ECW.
All the while, crowds weren't just growing, they were getting rowdier. More rambunctious, and really getting into the action. There would be a few altercations with fans crossing the line, but for the most part they were really respectful of the action, and knew they could get involved to a degree (Randy Tyler once had a fan Irish Whip me into his superkick on the floor!).


I remember trying to do a big dive onto Ladies Choice, Tony Kozina, and Strife, but due to the huge turnout, I couldn't actually see exactly where they were in the crowd. As a result, I just ran and hurled myself in the direction of the largest group of people. I landed on more fans than wrestlers. Wouldn't you know, all those fans just thought it was cool they were brought further into the action. They didn't care that they were all just knocked down like bowling pins.
In ECCW, even the referees were known to get "busted wide open!"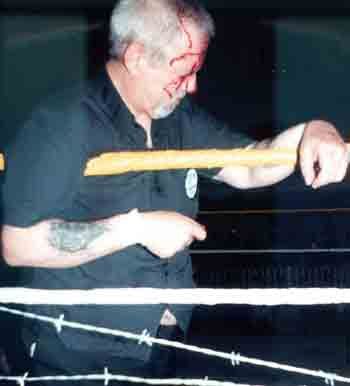 There was two big matches that ECCW was working up to. One was Michelle Starr vs. Matt Borne in a hardcore war, and the other was Randy Tyler, the ECCW Heavyweight champion, against Tommy Rogers.
Then came a phone call. It was Tommy Rogers. ECW had just begun present pay-per-view events, and the travel involved to get from Florida to Vancouver and then back to wherever the PPV event was, jsut couldn't be pulled off.
Enter Dr. Luther.


Fresh off of tours in Japan for both FMW and WAR, the "bad doc" was just what ECCW needed. He came in as a replacement and tore it up. Before long, he brought his dark minions, the Army of Darkness with him. There was the monks, the druids, Leviathan, Incubus, and then Abbadon. This was truly great stuff, as Luther was downright scary in everything he did. Strife and myself, who were a babyface tag team at the time were thrown at them and while the matches were great, we got totally pummelled along the way. The crowds got more and more into the crazy action, and pretty soon, this little old converted theatre was getting visits from the police and the fire department due to maxing out it's legal capacity. Tickets were sold to people to stand wherever they could find enough room to shoehorn themselves in. Scalpers were actually patrolling Columbia Street selling ECCW tickets. We had a lgit cult following with turnaway crowds.
I remember a show that was held in the building that was advertised as all cage matches. I swear the reason for this was in order to be able to squeeze a few more rows of chairs closer to the ring.
I have wrestled Luther and variations of the AOD numerous times since those days, and even consider Luther to be one of my favourite people in wrestling as well as one of my favourite characters. There were more than a few people in ECCW that truly believed the Army of Darkness was a Satanic cult. I'm not saying they're NOT, either!
When the AOD made a controversial departure from ECCW, I felt it did a real number on ECCW's momentum. Obviously, it wasn't crippling, because the company is still going with over ten years under their belt. Luther would even return years later and capture the ECCW championship and defend it against Steve Corino, Sabu, and Christopher Daniels. But the company did experience a shift, perhaps due to a need to grow, and perhaps as a result of having to be more accountable to sponsors and venues. The crowds in New Westminster never got BAD, but the building was no longer busting the seams. A legit new big star was found in Juggernaut, and innovative wrestling and concepts like the Pacific Cup and talent exchanges with IWA Japan certainly kept thing going strong. The wrestling was still there, but the atmosphere was what was lost.
When the sale of the venue to the Raymond Burr Society was finalized, that was the nail in the coffin. The rowdy, crazy ECCW era was over. Say what you will, but in my opinion, Bridgeview Hall in Surrey, which is where the main ECCW shows were moved to, was a giant cavern of suck. Any crowd heat or atmosphere that existed would quickly be sucked right out the door like a colonic was being performed.
Anyhow, this past week, Paul Lazenby, a highly accomplished and decorated MMA practioner as well as current Bodog fight analyst appeared on Bryan Alvarez's Figure Four Daily podcast. Lazenby was the man who assumed the Leviathan persona. His appearances on F4D have always been insightful, and each time I've caught one of his appearances I've let him know it. I directed him to the AOD-BBC You Tube video posted above, and before you knew it, I was chatting with Dr. Luther for the first time in years.
It's funny how within a few days of going on a trip down memory lane, I was communicating with many of the people I associate with that time of my life. As far a pro wrestling goes, I still consider it to be the best period of my career, and a very strong candidate for the best period of my life in general.
Like I mentioned earlier, ECCW is still going strong, with mostly an entirely new crop of talent. They deserve a good look if you haven't done so already. While the crowds may not be as rowdy and rabid as I liked it back in the day, the strong work ethic employed by the wrestlers is still the same.
Cruise over to ECCW.com and find out when their next show is, or buy a DVD!