Through the wacky world of professional wrestling, I've had the pleasure of meeting some extremely interesting a great people. I've also found myself in more than a few ridiculous situations (ie: locked in the back of a Ryder truck for five hours) with equally ridiculous people.
I've had carbombs go off outside my hotel room window. I've  partied it up with Hell's Angels (a loooong story), been in riots, babysat drunks and all sorts of equally fun stuff.
I love stories, and I love all the fantastic characters I have met by way of professional wrestling. Even though I might not have appreciated some of those situations as they played out, I certainly look back on them now with fondness.
Some of the weirdest people I ever met were random people in different towns who would always show up to help with the ring crew. Some of them had a long history of filling such roles, going back to the days of Don Leo Jonathan and Gene Kiniski. They had very interesting life stories. Some of them just needed to shower really badly.
As far as wrestlers go, few that I met were as nice as TNA's "Fallen Angel" Christopher Daniels. A consummate professional in every sense of the word. It was months before I heard him remotely say anything negative about anyone, and even then it was in a joking way.
The late Louie Spicolli was another awesome guy. Following my third ever wrestling match, he got down on the ground in a slimy dressing room to impart a boatload of knowledge and technical know-how after my supposedly more experienced opponent proved to be anything BUT professional.  I have no idea why he decided to help me out, except perhaps he was just a nice guy and felt it was the right thing to do.
I could go on and on talking about the great people and true pros I've met. With the good, you have to take the bad. In that vein, let's talk about this man: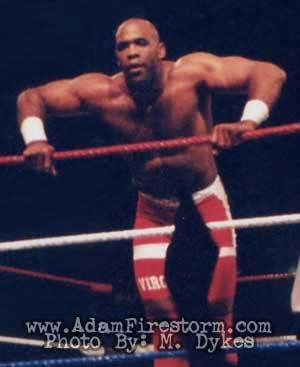 That's right, Mike Jones, aka: Virgil, Soul Train Jones, Curly Bill, Shane, Vincent, and whatever other names he went under.
Now, I have had a chance to meet, work with, or wrestle guys like Rick Martel, The Bushwhackers, Dan Severn, Tito Santana, Greg Valentine, The Tonga Kid, Matt Borne (Doink), Jimmy Snuka, Sting, Ted DiBiase, Nikita Koloff, J.B.L., and a million other much more famous, talented individuals than Virgil. Yet Virgil had an obnoxious ego that far surpassed any of those listed above, who truth be told, were all fantastic to be around.
I first met Virgil in 1994, when Greg "The Hammer" Valentine did him a big favor. Valentine was booked for West Coast Championship Wrestling (run by Michelle Starr and Ken Kingshott). He was booked to face "Diamond" Timothy Flowers in what I am sure would have been a great match. Unfortunately, in the weeks preceding the match, Valentine was injured. He was professional enough to let WCCW know, and help arrange for another WWF-level star to take his place.
At the time, Virgil was fresh out of the WWF, and was probably about as marketable as he ever would be on the indies, so a lot of fans were actually excited about the substitution. After all, as great in the ring as Valentine was, he was far from a crowd-pleasing, fired-up babyface.
Imagine the suprise of many fans, used to getting autographs from all the big stars that had passed through Cloverdale, BC, when they were told it would cost them $10.00 to get Virgil to scribble his stage name on a piece of paper for them. One fan brought a Virgil action figure, and was told it would be at least $12.00 to get it signed. Want an 8×10 picture? $10. Signed? $15.00. Want a Polaroid picture with the Million Dollar Man's former servant? $20.00. Ridiculous! Many fans went away empty handed and disappointed.  To compare, John Tenta, hometown boy and fresh out of the biggest WWF run of his career signed anything you wanted for free. Polaroids? $5.00. Same for an 8×10.
But Virgil was a superdupermegastar. Tenta headlined pay-per-views against Hulk Hogan. Virgil appeared in the corner of men that wrestled Hulk Hogan.
At the time, I wrote the programs for WCCW. I went to Virgil and introduced myself, and offered him a copy of the program (I should have charged him $10!). He refused it and went off something about some guy "in California who writes wrestling books and is trying to kill the business." So apparently, Virgil is horribly paranoid as well.
Imagine my pleasure when I found out that these so-called rag-tag Canadian nobodies ribbed him horribly all week long. Nobody would even talk to him. I also got some great WWF dirt on him from Matt Borne that made me chuckle.
I remember hearing years later that Virgil was asking $800 to work indy shows. Why $800 when years previous it was $500? "I'm nWo now! I'm Vincent! $800!"
Ummm, yeah. That guy who stood in the background every week on Nitro and got beat up?
The last story I heard about Virgil, he was randomly showing up at indy shows and conventions to sell his "gimmicks" at no price to the promoters and/or organizers.  Gotta make a buck, I suppose.
And Virgil, if you are reading this (which I highly doubt), I don't hate you, or even dislike you. I just find it odd that pros that accomplished a lot more than you did were so much  nicer.
And now, my favorite Virgil picture EVER: